PAUL WALSH: A Passionate Flyer With An Incredible Record Home page
4th ALL AMERICAN LOFT OLD BIRDS LO- MIDDLE SECTION 2000
1st ALL AMERICAN OLD BIRDS LO-MIDDLE SECTION 1999
by Alex Cornella
Cornella Family Loft
FIRST PLACE 2006
3rd & 12 EMF Fut. Long Island NY 2006
Good Luck on your 2015Old Bird & Young Bird Racing Seasons-
---E-Mail
INTERNATIONAL FEDERATION AWARDS
2001 OB Champion Loft 2nd – 5 - 25 Lofts
2001 OB Champion loft 5th -- 25 - 75 Lofts
2001 OB Hall Of Fame -- 25 To 75 Lofts 6th & 8th
Paul Walsh is a fancier who is passionate about his birds and about winning. For the retired captain of the Scranton (Pa.) Fire Department, no detail around the loft is too small. His phenomenal race record demonstrates what can be accomplished when hard work and a winning attitude are applied. "I fly to win each and every race I compete in," Paul says. "You have to be on your toes and thinking all the time in this game or you will be left behind."
Paul has been a member of the Scranton Club since 1979. The Scranton Club is part of the Lackawanna-Luzerne Combine (LLC), where he serves as the combine race secretary. He is also the 1st vice president of the International Federation of American Homing Pigeon Fanciers.
In 1997, Paul moved from his home in Scranton to the outskirts of the city in Greenfield Township. He started over at a new location and never missed a beat. Paul, his lovely wife Shirley and the birds moved the day after the last old bird race was flown and the LLC Combine average speed for the old bird series was sewn up.
At the old Scranton loft he won many races and average speeds, and his competition was relieved to see him change locations, figuring Paul made a big mistake by moving. "Everyone said I was done winning because I moved off of the line of flight. I moved from the short loft location in the club to the longest. But the doubters were wrong, because in the last four years I have won more than my share of races at the new loft," Paul notes with a great deal of pride.
APPROACH TO BREEDING
After years of study Paul pays no attention to strains. His is only interested in champion pigeons. "I am not a breeding station but a skilled flyer. My view on breeding depends on the situation. If l am going to breed for stock or flying," Paul says.
He likes to inbreed for stock and outcross for flying. As a rule, he does not put just any bird in the breeding loft. It must be a champion or a daughter or a son of a champion. In the flying loft he will let two birds mate the way they like and may or may not take a pair of youngsters off them.
"I have a rule here at Walsh Loft. Breeders are for breeding and flyers are for flying. I do not ask my flyers to become my breeders, even the race winners," he says.
Paul likes to cite a story about Ad Schaerlaeckens, the famed Dutch flyer and author. "When asked 'What strain do you have?' Schaerlaeckens says the champions in Holland and Belgium do not understand. What does this man want, a strain or a good bird? This is because the majority of the super birds in Europe are products of crossing."
Paul goes on to question if 'pure strains' really exist? In Schaerlaeckens' opinion they don't. Paul also cites the example of Jan Arden, a famous name all over the world for long distance. Now, some decades after his death, many people in Holland claim to have the pure Jan Aarden strain. "Most of them know better, but the name sells! And what is the truth? Just like Hofkens, Jan Aarden was always looking for the best. He bought birds everywhere and though he was not a very successful racer, later other fanciers were successful with the offspring of his pigeons," Paul notes.
Paul agrees with Schaerlaeckens that American pigeon fanciers are naïve when it comes to the issue of pure strains. "They show off pure Bekaert, pure Wegge, pure Verheye, pure Hansenne, pure Bricoux, and pure Huyskens van Riel. These names are completely unknown to the younger generation in Europe," Paul says.
When asked, "What is the best way to acquire new stock?"
Edited BY Paul 7-25-10 today with the World Wide Web, it is easy to find a Champion loft from coast to coast. We are able to view this Champion loft's racing performance and look at his birds online. I recommend that this is the unsurpassed way to acquire new stock, from a Champion Loft, "from the web". Buy the most excellent birds you can afford. It is also advisable to look at high dollar one loft races and study the winning birds, make sure they are consistent birds in this one loft series of races. You are not interested in winners of a single race at any one loft race, but only birds clocked on top of the sheet in the whole series of 3 or 4races. Before the web, we would go and see the best loft in the neighboring combine. A loft that was doing all the winning and always in the top diplomas is what I looked for. This loft, you would not have to compete against with their birds when you bred and raced the birds. Without the worry of your new birds challenging against his loft, with his blood lines, make for an easy exchange of birds.
Most fanciers start off with gift pigeons from some of their new club mates. Let's face it, are the unfamiliar club mates giving you the best from their loft? Are you willing to buy a bird for an x amount of dollars and give it to someone you just met or received a call from looking for some free birds? From time to time, people do give the best in this kind of situation. They are folks indeed who show this kind of kindheartedness, but I feel that most of the time fanciers give you just birds and that bird is a So-So bird. Once the bird breeds or they race the bird, and if it breeds satisfactory or races on top of the sheet then, these gift givers are as excited as you. In reality, it is because they did not know in the first place, the bird would have done so well, or it would still be at their loft breeding and racing. Remember there is always an exception to the whole kit and caboodle, in life, you might be in the right place, at the right time, and the great pigeon master will shower you with champion birds. Good Luck! Today there are oodles of pigeon dealers selling birds. From these brokers of pigeons, you will see most of there for sale birds, are out of, and there so called good ones. The birds bred out of a bird whose grand sire was a champ in most cases. What they do not tell you is they send piles of birds out to the futurity races, friends' loft, etc. when one score from the merchants' loft, in a race, they flood the publicity channels with their story of this winning bird. You never hear about the many birds they sent out all over the USA that did not score or even make it to the race.
We also see the fellow who only started racing two or three years ago and won a race or two. He now deems he earned the right to market and sells his stock. One or two races wins do not make a titleholder. A lot of these web auctions rarely auction off the winners themselves, but back in the lineage, there were great champion years ago. I personally think the pigeon internet auction clearing houses are not the way to go, to start with birds to enter this world of pigeon racing. These auction sites are filled with pigeons from wantabe champions. Most birds at auction are birds bought by fanciers, occasionally for high dollars. At the moment, that, they have bred those birds, once or twice, they now want to resell the birds to get a portion of their venture capital back, with no regard how well the progenies flew. Every so often, these fanciers bred these auction birds and fly the youngsters, if the young birds do well then the birds are kept for stock, if they do not propagate well then back on the auction block, for sale to you or somebody else makes an effort to breed or race, in the end. They I am sure a repeat the whole process. I have heard people say they are going to exterminate out the loft and put the birds up for auction; they do not want the birds, so why should you? Do not introduce birds, like this to your loft. A lot of these auctions rarely auction off the race winners, but back in the pedigree, there was a pigeon with great market ability, Name brand birds, birds whose names are pasted over and over in the magazine with many people selling birds bred out of these old champions. I want to say again the champion may be well back in the pedigree, and the blood line is very thin, but the champion birds' name becomes, house hold names in the sport. These types of pigeon were marketed and sold like Christmas toys to kids, and everyone wants one or has one of them.
I also know you should consider yourself fortunate if you get a bird after paying for it from some of these folks which sell their birds at auction, I in person have heard of many cases where someone would pay for the bird or birds at auction, and the bird or birds would not ever get shipped. The peddler does not return your calls, but he cashes your check. Conversely, he takes your money back from your pay pal account. When this happens you suffer the thrashing, because these snakes, who call them self, breeders, wait for the specific time period of 30 or 60 days, and pay pal will not issue your money back to you, your check is cashed and cleared, and this crook or ass does not respond to any of your communication tries. . Be Careful!!! You think you are going to save a few bucks by going with, the going for a song route, but it will cost you more in the end. These snakes cannot guide you how to win, because they cannot be victorious themselves. Remember the pedigree is only as good as the guy who makes it out...
A person has to make his own conclusions and get what kind of pigeon is pleasing to him, and then have trust in his breeder. I like a performance pedigree with lots of winners in the pedigree or birds that breed winners. I believe there is no room in the breeding loft for apprentices. I guess I am proof that if a fellow goes to the top flyers and pays attention to his advice arid gets some of his good ones, he will get to the top of the race sheet.
You should start off with pigeons that can and will put you on top of the race sheet;
EARLY BREEDING
In the past Paul mated the birds together on Valentine's Day given that January and February are cold months here in the northeast. But today, with all the systems out there, you have to become a systems player or suffer the consequences of your club mates beating you. Whether you use the dark or light system, Paul believes you must breed early to compete and his breeding season starts Thanksgiving Day.
A health program prior to breeding is followed. The importance of his pre-breeding program is to insure optimum fertility and for the reproduction of healthy young birds. Four weeks before pairing he increases protein levels to around 18% to prepare the birds for the stress of breeding. This is accomplished by adding 20% protein pellets to the regular feed. Vitamins and minerals, including calcium, are offered three times a week. Powdered vitamins and minerals are added to the grit and changed every other day.
Paul orders all the vitamins and medications online from www.pigeonplus.ca Three weeks before pairing he starts a 10-day course of a broad-spectrum antibiotic to clear up any bacterial problems. "Baytril may be a good choice if you have had a history of paratyphoid problems. It is always best to base your antibiotic choice on culture/sensitivity tests. Start a five-day course of canker treatment. The drugs used to control canker are Ridzol, Emtryl, Spartrix, and Flagyl.
Paul believes it is best to treat three weeks before pairing up, then again while on eggs. Two weeks before pairing he treats for coccidia with Corid or Sulmit for five days and worms with one or two drops of Ivomec orally per bird.
He then increases light to 14 hours a day. He turns the lights on in early morning so the birds have a natural dusk. If dusk is at 6 p.m., he turns lights on at 4 am and off at 8 or 9am. He says then the birds should be given a rest from medications to decrease the risk of developing resistance to these drugs and allow the birds to develop some level of natural immunity.
According to Paul, to fly young birds with success on a system, you must have many early youngsters. Paul raises between 50 to 70 babies for his young bird team. One thing he does to accomplish this is to put the young birds on the loft floor in the breeder's compartment when they are from 12-14 days old. This way the youngsters of a cock that is driving and is not paying enough attention to the youngsters will be fed by another cock or hen. The added benefit is that the breeders go down early on the second set of eggs.
Another advantage Paul finds with this method is that he does not have to spend the time to clean each and every nest bowl daily. He just puts sawdust on the floor and the young birds lay on it. At night he leaves a night light on in the breeding loft and he has seen young birds getting fed at 5 am. "I have had no problem with young birds getting scalped or beaten up, and I am able to take a couple of young birds from my flyers and put them on the breeding loft floor. The breeders pump them up just the same," Paul says. "Just before dark it is a sight to see six or seven cocks going to each and every young bird to see if it wants to be fed. My young birds are eating by themselves when they are real young and are flapping their wings on the loft floor, developing muscle while other flyers' young birds are still sitting in the nest."
Paul advises that vaccinating young birds is very important. He waits until the entire young bird team is bred and moved to the young bird loft, then vaccinates the whole group for paramyxovirus (PMV) and parathyroid. However, he is reluctant to give both vaccines at the same time.
TRAINING YOUNG BIRDS
Early in his racing career, Paul would take the young bird team 35 to 50 miles for their first toss, and they usually beat him home. He has since stopped this training method. Now he gives open loft prior to road training. Young birds loft fly daily for one hour until some time in April. "I then increase loft flying to twice a day, one hour each time," he says.
In May road training starts and the young bird team will be in the crates often. . There is a church two miles away from the loft he often uses as a release point. "I train my birds myself. I do not use a training truck or train with other lofts. This way other birds are not pulling my team off my line of flight. I am always sure of exactly where they were liberated and how the weather is at that moment," he notes.
Anything can happen on these early training tosses, so he picks a good day and gives the birds plenty of time to get home. The next liberation spot is six miles away and he will go there every day, weather permitting, perhaps 10 to 15 times. At this point the birds are starting to get into condition and he wants to get in their heads that the crate is part of their life. From the six-mile point he goes 15, then 30 miles, and once he gets to 50 miles, he will sit there for a period of time. He will train them out to 100 miles more then one time before the first race. "I do not like to single toss, but prefer groups of 15 to 20. I like to train youngsters on nice days, not like I do with the old birds," Paul says.
At times bad days cannot be avoided, so Paul is careful to bring the birds back if he has doubts about the weather. "I like to train with a head wind because the birds will get that usually on race day as the season is changing and there is a lot of north wind for young birds," he says.
Once the races start, every young bird not entered in the race goes to the 100-mile station on race day. This is done to keep the whole team under the same type of stress each and every day. Young birds are trained on line, but sometimes he will jump off that line for a shock toss. Paul believes the shock toss will get their heads back on right and you may win the week you do this.
"My young birds are flown to the perch, widowhood or mated. It all depends on the loft situation at the time," he says. Paul will hold young birds back and not race them. He believes you can race a young bird hard, but you can't race it hard as a yearling. He will prepare some birds until they become yearlings by just training hard and letting them fly one or two races.
When they come home from a race they have a full hopper of feed in front of them all day. After young bird season he vaccinates all birds on the premises for PMV and paratyphoid. To play it safe, he gives a paratyphoid booster three to four weeks later.
NEW FLYER TIPS
"Probably the best tip for a new flyer is to be quiet and just listen." Paul says. "Don't be a know it all and be patient. Learn how to become a handler first. All flyers want to start at the top, but in reality, 99.9% of all flyers start at the bottom," Paul says.
Great pigeons will not fly well if you don't know how to handle them correctly. According to Paul, new flyers must learn to become an observer of your loft and every loft you go visit. If someone has mastered that and is not successful, the flyer should observe what his immediate competition is doing and adapt. "If a competitor is on widowhood or flying the dark system and they are beating you week in and week out, then you better meet your challenge and adapt," Paul advises.
He says if you find yourself constantly on the bottom of the sheet, try out a different health program, train harder or get an honest opinion from someone you respect. Try to be honest with yourself no matter the outcome. If you are always late, even if you have healthy, well-trained birds, then changing and adapting will do no good because the quality of the birds to do the job is missing.
"The systems are not for everyone and I do not care to be on one," Paul says. He flew the dark system one-year and had great success with it, but decided it is not worth the trouble. The darkened birds did win as old birds He also tried the light system, but did not like the way the birds molted out as old birds. Paul has since scrapped both systems, but may reconsider them in the future. At present, he's more interested in old bird flying then young bird flying.
Paul recently refreshed and updated his Web site ( www.walshloft.com ), and it contains a wealth of information that is useful to novices and old hands alike. "I have made many friends through this wonderful hobby and have enjoyed all the pigeon sport has given to me. Whenever I can, I am only too happy to talk pigeons and to share what I have learned with others," he says.
Paul's contact information is below:
Paul Walsh Address: P.O. Box 17 Clifford Pa 18413 Phone: 570-222-5405
or in NC 9080 Heritage Dr. Calabash NC, 28467 Tele. 910-575-8111
E-mail: Paul@walshloft.com
PAUL WALSH LOFT RECENT ACCOMPLISHMENTS
"Love all, trust a few. Do wrong to none."
Hello this is me Paul Walsh
"I fly to win each and every race I compete in, "You have to be on your toes and thinking all the time in this game or you will be left behind."
Remember a champion loft is only as strong as the weakest link. Take a good hard look and make sure you are not that weak link. I am in reality reluctant to disclose what I know or learned about racing pigeons. I want the advantage that knowledge gives me, I choose to keep this knowledge to my self--and I now started to share wisdom with some of you but not all. In this world, it has always been , and always will be that knowledge is equal to power and wealth and with out knowledge there will be no power, wealth or wisdom Remember you are the coach of your own team and it is you who picks his line up for the races no one else. .In this game of pigeon flying the Champion Flyer has much knowledge and speaks little , the Wanna be Champion pigeon flyer has no knowledge and speaks lots with much advice for all to HEAR.
BAM One Loft Race 10-14-07 my bird took 3rd Position two seconds behind the winner, He was on the drop with the winning bird ,
The SNF, Futurity in long island new York 10-07-07 , it turned out to be a tuff race again ,, I sent three birds to there auction fifty dollar bands auction and I ended up placing 2nd and 11th in two different lofts.
Well the facts of the world trade center race in New York 350 miles and over which happen Saturday September 29th 2007. one of my birds that was bred for Bill& Mike loft from NJ, Won tenth position, This major New York Metropolitan race clocked only 12 day birds, can you imagine the world trade center race, with only 12 day birds. Participating in this race there was over 160 lofts over 1600 on the birds, first paid 50 grand 150th pays 1 grand,
In the
East Meadow Futurity (EMF) was raced on 10-01-07 d my bird was clocked 7th position at Manny Parada's Long Island loft, another tuff New York race happen on this weekend with many birds lost, I get lucky once in a while.
we had two birds fly in the Espo race series of 100,200,250,300, and 350 . my loft was in the prize money each week
The ESPO 350 happened on Monday 10-01-07 the espo race or espo challenge, http://www.esposeastcoastchallenge.com/ its 1 grand a bird to enter and 200 perch fee , I was in the money on the 200,250 and 300, now the 350 I had two birds in the money, they had 22 birds on the drop which if am in aw of, but this is the way it went , then he had a drop of 8 birds my bird was in that drop, but was the last bird to run in, so he ended up 30th and the next bird for me clock at 35 position, some of the big names in the sport are in this Espo race and , I am right there in the thick of it, my birds did not get lost and did not fail, as a matter of fact some one who was there at the race, when they seen my bird who came in the 35th position said the bird looked as fresh as can be, I will win 9th Champion Bird, and one of the average speed prizes, there is ten average speed positions in this race the entry was $1000 plus $200 perch per bird.
Well any way to make a long story short, both of my both birds flew and clock each week in there series of races ESPO had.
ESPO'S EAST COAST CHALLENGE 2007
CHAMPION BIRD POINTS
<![if !vml]>
<![endif]>
9TH- PAUL WALSH- 86 POINTS- BAND # 494
Walsh Loft Wins
FIRST PLACE 2006 I.F. CONVENTION
126 th I.F. Convention 2006

Hosted by Islip/Islip
Terrace Clubs Long Island,
New York
Convention Race Report click here
With the help of Joe Colondona, ( Japs Loft) and his excellent skills at preparing the birds for the race I was lucky enough to win this Great race , Thank You again Joe


Convention Race 300 Miles
Somerset, Pa.
My loft was First and 28th positions , I entered three birds in to the race and all three where shipped
The winner is a Grand son of TORIN
I believe in the simple principle of genetics. HEREDITY IS HANDED DOWN FROM ONE GENERATION TO THE NEXT. LIKES BREED LIKES. Intelligence, compass, homing instinct, navigation skills, determination, courage and heart are inherited from the birds pedigree or Ancestors' Blood
Walsh loft wins Annual Pine Tree Derby!1st & 4th Pine Tree Fut. 2006
9-17-06 I received a call from Jim Peck , that my birds have also won the Pine tree futurity in Maine , the race was reported to me as a hard race, I was FIRST, and 4th , I only sent two birds to the Maine Pine Tree Derby Race , also this same weekend I clocked in the prize money in the big Detroit Classic race 2006, the birds were flying 387 miles
It looks like I got lucky in in another futurity Race 10-2-06 that I sent a few young birds too, , this time in Long Island NY I was 3rd & 11th, & 21 in the EMF Futurity. our bird was a minute and a half out of winning and 20 seconds out of second place, the birds were sent in , and then get put up for auction , these were bought by Manny Parada, you heard the song if they can make it in New York they can make it any where, and its real true in pigeon flying,
I clocked in the prize money in the big Detroit Classic race 2006 , the birds were flying 387 miles
My friend in New Jersey , John Glemser who has some of my birds for the big futurity races there in New Jersey, called and said he was , 1,3,5,6, this weekend at 150 miles, with my birds taking these positions last week he was second with one of my birds also,
2007 GNCC CONCOURSE OLD BIRDS First Average speed and First Champion loft . 2,3,4,5,6,7th place Champion Birds. click to see other averages

img border="0" src="../../2008/myvinereg.gif" width="507" height="24">

FIRST OVERALL AVERAGE SPEED 2006

LLC AWARDS

2001

First Overall Average Speed Old Birds

First Combine Champion Loft Old Birds

Second Combine Champion Bird Old Birds

2001

First Overall Average Speed Young Birds

First Combine Champion Loft Young Birds

First Combine Champion Bird Young Birds

2000

First Overall Average Speed Old Birds

First Champion Loft Old Birds

1999

First Overall Average Speed Old Birds

First Champion Loft Old Birds

First And Second Champion Birds Old Birds

1998

First Overall Average Speed Young Birds

First Overall Average Speed Old Birds

2001 FUTURITIES

IFConvention Race -- 9th And 36th

Gordon Richardson Classic Race -- 14th& 17th

Suffolk Nassau Auction Race -- 18th

HFC Futurity -- 4th

Mervin Peters Auction Race 36th

Racing Pigeon Bulletin All American Awards

4th All American Loft Old Birds Lo- Middle 2000

1st All American Loft Old Birds Lo- Middle 1999

5th Grand All American1995

4th All American Old Birds Lo-Middle 1995

7th All American Old Birds Lo-Middle1995

4th All American Old Birds Little 1991

First 5 Star Loft Grand Champion 1991

INTERNATIONAL FEDERATION AWARDS

2001 OB Champion Loft 2nd – 5 - 25 Lofts

2001 OB Champion loft 5th -- 25 - 75 Lofts

2001 OB Hall Of Fame -- 25 To 75 Lofts 6th & 8th

2000 OB Champion Loft 1st ----5---15 Lofts

2000 OB Champion Loft 2nd --15---49.9 Lofts

1999 OB Champion Loft 1st ---15---49.9 Lofts

1997 OB Champion Loft 1st --15----49.9 Lofts

1996 OB Champion Loft 1st 50—100 Lofts

INTERNATIONAL FEDERATION HALL of FAME BIRD AWARDS

1995 IF HALL OF FAME HON MEN O.B. IF-94-SCR-4615

1995 I.F. HALL OF FAME HON MEN O.B. IF-92-SCR-1717

1995 I.F HALL OF FAME HON MEN YB 767

1995 I.F. HALL OF FAME HON MEN YB 770

1996 I.F.HALL OF FAME O.B 2nd 50-99 Lofts 767

1996 I.F. HALL OF FAME YB 1st 5-15 Lofts 1584

1996 I.F. HALL OF FAME YB 50-99 Lofts 3rd 1584

1997 I.F.HALL OF FAME OB 50-99 Lofts 6th 648

1999 I.F. HALL OF FAME OB 1st 5-15 Lofts IF98SCR-14

1999 I.F. HALL OF FAME OB 5-15 Lofts 2nd,IF97-MID1023

1999 I.F. HALL OF FAME OB 16-49 Lofts 2nd AU98EastClassic1201

1999 I.F. HALL OF FAME OB 16-49 Lofts 3RD IF-98-SCR-12

2001 I.F. HALL OF FAME OB 25 TO 75 Lofts 4074 WAS 6th 755 8th

----------------------------------------------------------------------------------------

PAUL WALSH LOFT SUPER STARS
1st COMBINE 279 MILES Young Birds
1ST CLUB, 2ND COMBINE 540 MILES Old Birds
11TH COMBINE 419 MILES
1ST CLUB, 2ND COMBINE 334 MILES.
2ND CLUB 8TH COMBINE 200 MILES
2nd LLC Combine Champion Bird
6TH PLACE I.F. HALL OF FAME 25 TO 75 LOFTS.
Saibh
IF-01-SCR-7520 Saibh IS THE LACKA-LUZERN COMBINE CHAMPION BIRD FOR 2001 YOUNG BIRDS WINNING FIVE DIPLOMAS IN THE COMBINE.
LLC – Combine Positions
Lofts—Birds Position Miles
44 665 2 157
She lost by 2 seconds to loft mate
36 489 1 215
45 610 3 215
43 559 3 279
45 649 6 157
Scranton Club races for 7520
LOFTS BIRDS POSTION MILAGE
13 178 1 279
12 188 1 215
17 259 2 157
She lost by 2 seconds to loft mate
14 193 3 215
Sabih's father is a double 540 mile winner and her mother is a mutiable diploma winner including winning 540 miles two times and she is 1999 I.F. Hall of Fame OB 5-15 LOFTS 2ND position lost first to loft mate #12. Sabih's nest mate,7521, is also a combine winner 2001 young birds
IF-01-SCR-7585 was equal first combine 200 miles in the first race for young birds 2001 In 2003 young bird a sister of 7585 was clocked in 4th in the East Meadow Futurity (EMF) Long Island NY/
7585 is a full brother to IF-98-SCR-14 I.F. Hall of Fame winner, 5-15 lofts, 1999 Old Birds Season 150 mile #14 is a son of #4615 who is 1995 American ace pigeon 4th place and I.F honorable mention. And #2798 a daughter of the Willie Cock 1991 American ace yb 5th position. And a full sister to 1995 American long distance ace pigeon 1717
7585 is a nephew to IF-97-SCR-4550.who is now into the breeding loft for 2002.
Willie II, IN 2000 Old birds won first combine540 miles, he was also equal first combine at 100 miles beaten out by loft mate #4 .4550 IS A 1999 Combine 200-mile Winner flying in the rain. Also in 99 Willie II was 9th combine 540 miles. In 2001 old birds he again was 8th combine 540 miles. Willie II is Full brother to the mother of the California State race winner in 1999,
IF-95-SCR-648 is a multiple winner and a foundation breeder.
Pol is a 1997 I.F. Hall of Fame Old Bird, 50-99 Lofts 6th place.
Pol is the father to East Coast Classic 1201, who is 2nd 1999 I.F. Hall of Fame 16-49 Loft. 1201 is the 1999 Lackawanna - Luzerne Combine Champion Bird.
Cahir son of Pol. In Year 2000 Old Birds 755 won 1st combine by 15 minutes and 15 seconds in a 200-mile race. In old birds 2001 755 won the combine by over 4 minutes and the club by 17 minutes
On a 334-mile race he was 6th combine. He is an I.F. HOF 8th position 2001 old birds 25-75
Conleth, is a combine winner as a young birds and was in the diplomas three times as a yearling old bird. He went on to win first club 4th combine 540 miles 2001 old birds. Conleth is 3rd I.F Hall of Fame 16-49 lofts 1st I.F. Hall of Fame 5-15 lofts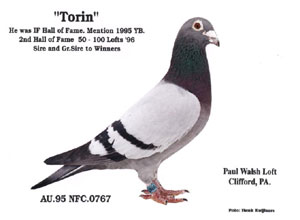 Torin is a three-time diploma winner as a young bird and a three-time diploma winner as an old bird. His value is in his breeding he is a fantastic breeder for Paul. Sire and Grandsire to winners. In 2003 young bird Torin has bred the 3rd place winner in the NSBR Futurity long island Ny.
IF-99-SCR-1464 BB HEN 2nd combine 419 miles 10th combine 279 miles and a daughter of TORIN.1464 brother was #4, he was simply a fantastic widowhood cock #4 is a son of Torin. .
Home
3rd & 12 EMF Fut. Long Island NY 2006
Laugh long, live long,
Yesterday is history
Tomorrow is a mystery
Today is a GIFT . . . That is why they call it the present